Before founding Distill Media, I spent seven years as a video journalist for a major television network. This background not only equipped me with a unique set of skills but also opened up opportunities to freelance for TV News when the calls come in. While I mostly produce corporate videos now, my experience in TV News and documentaries significantly influences my approach to storytelling.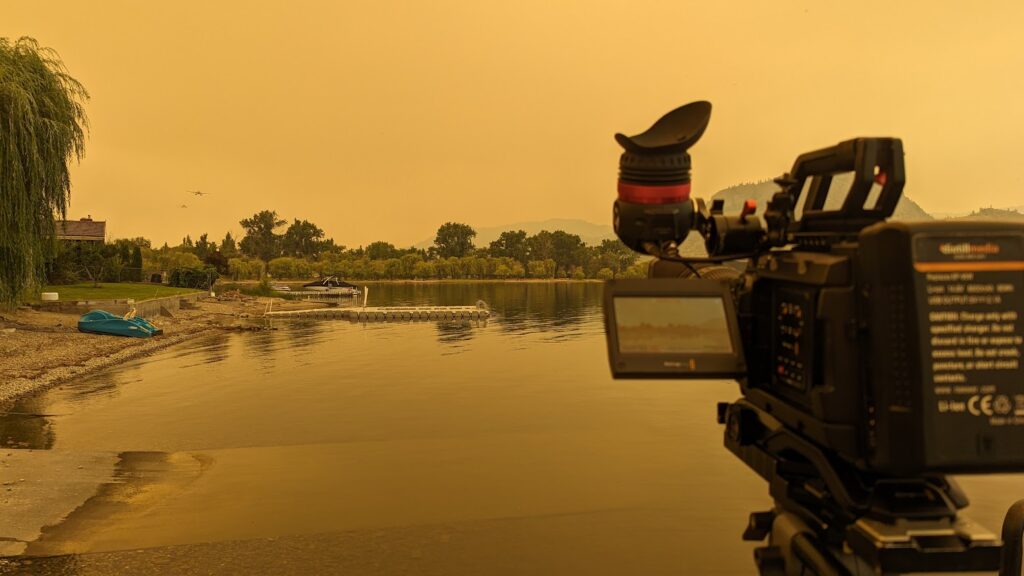 On the Ground: Covering the Eagle Bluff Wildfire for CBC News: The National
When a wildfire erupted in Washington State and crossed over into Canada, forcing the evacuation of over 700 homes in Osoyoos, I was called upon to cover the unfolding events. The call came in, and I had to make critical decisions quickly. Choosing the right gear was paramount, given the dynamic situation and the need to capture as much as possible in a short amount of time.
With my broadcast TV camera, a variety of essential gear, and a mindset honed by years of broadcast journalism, I set off. I knew I needed to be ready for anything, from changing weather conditions to evolving fire patterns. My gear selection reflected this, providing me with the flexibility to adapt to the situation on the ground.
Upon arrival in Osoyoos, I immediately began filming. I captured 'skimmer' planes loading up their tanks by skimming across the lake, a sight that demonstrated the scale of the firefighting efforts. These planes, capable of getting into tighter areas than regular water bombers, were a crucial part of the response.
From there, I moved to a safe location along the highway to film the fire as it burned along the hillside. The footage was raw and real, showing the stark reality of the wildfire's impact.
While CBC had crews coming up from Vancouver, I was able to reach the fire quicker, allowing me to capture crucial visuals while the crew made their way up. When they arrived, I used a device called a DeJero, provided by CBC, to feed my video back to a control room in Toronto in real time. His ability to provide immediate visuals for the story allowed the other crews to focus on setting up for the live shot of the reporter covering the event.
On the second day on this fire, I worked with a reporter for The National to deliver live broadcasts that aired coast to coast on various CBC News programs. I conducted interviews with witnesses and residents in between live hits, balancing the demands of live reporting with gathering additional footage. Despite the pressure and the fast-paced nature of the situation, I remained focused on my goal: to keep the public informed with factual, timely reporting.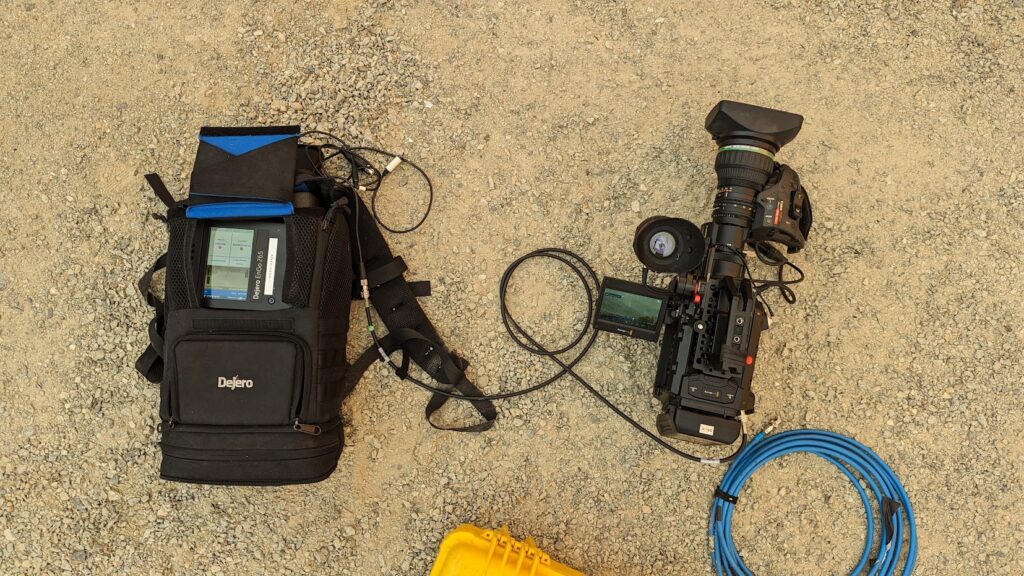 The Freelancer's Role in TV News
As a well-respected freelancer in the Okanagan Valley, I'm often called upon by major networks when important stories happen in the area. These stations, based in Vancouver or Toronto, trust me to gather visuals, conduct interviews, and send all the footage back by deadline. This is a lot of trust, and something I take very seriously. I always have multiple plans for how to get the video back to them, as missing a deadline is not an option. I've got to be ready, have the right gear, and use my time wisely.
How Broadcast Foundations Enhance Corporate Videography
The experience and skills I've gained from working in broadcast journalism have significantly influenced my approach to corporate videography. I know how to shoot 'for the edit', meaning I don't waste my clients' time and money shooting excessive footage. I know when I have everything I need to effectively tell the story.
My years of telling daily news stories have taught me how to conduct engaging and honest interviews. These storytelling skills are now applied when conducting corporate interviews. This unique background sets me apart from the competition, making me a better storyteller and a more effective videographer.
Whether it's covering a major wildfire for a national news broadcast or crafting a compelling corporate video, my commitment to storytelling remains the same. I bring the same level of dedication, professionalism, and skill to every project, ensuring that every story is told in the most engaging and effective way possible.