At Distill Media, we don't just create videos; we work closely with our clients to craft narratives that resonate. We believe in collaboration, authenticity, and passion in our work. But don't just take our word for it. Hear from our clients who have experienced the Distill Media video production process from conception to completion.
Part 1: The Conception – Pre-Production
Every project at Distill Media begins with an idea, a vision. We work closely with our clients to understand their goals and target audience. But we don't merely aim to understand our clients' objectives; we strive to transform their vision into reality.
Katie Mai from Moms Stop The Harm said of her experience with us, "We came to Distill Media with a general idea of what we wanted to walk away with and who we wanted to reach, but it was not overly clear to us what the final product would or should look like. The team skillfully led us through a design process to transform our vision into reality, helping us craft the key messages, script, and filming it in their beautiful space. They were quick to incorporate changes and make edits. They were also kind and humble. We were very happy with the end result and the value for money, and will definitely be working with them again!"
Working with clients like Katie, we devise a roadmap that guides the entire production process. This entails drafting scripts, scouting filming locations, and brainstorming possible camera angles and editing opportunities.
Part 2: In Action – Production
Once we have a clear direction, we shift gears into production. This phase is more than just filming. It's about capturing the authenticity of a moment and creating a space that allows our clients to share their story in the most genuine way.
Mike Kittmer from City of Kelowna shares his production experience with Distill Media: "As soon as I began working with Distill media it became apparent that I had the right person (Curtis) to help us realize our vision for our project. Having had just enough past experience with video and photo shoots to know how much work is involved I was nervous and sweating all the details. I was sure the day of shooting and the following post-production work would be stressful. Curtis and his team eased my concerns immediately, taking the lead and making the shoot fun, stress-free and efficient. In post they were only happy when we were, and the end result turned out fantastic!"
We approach every shoot with a positive mindset, adaptability, and a strong work ethic. We aim to make the process as smooth and enjoyable as possible for our clients, understanding that for many, it might be their first experience in front of a camera.
Clemence Samson from Kamloops Snowmobile Association comments on our adaptability, particularly when facing challenging filming conditions: "We had very limited time to see the task to completion. Filming a whole day outside, with a large group of snowmobilers, winter conditions added to the complexity of the task. Curtis understood the goal for that video and he nailed it perfectly, he was able to capture the essence of the message."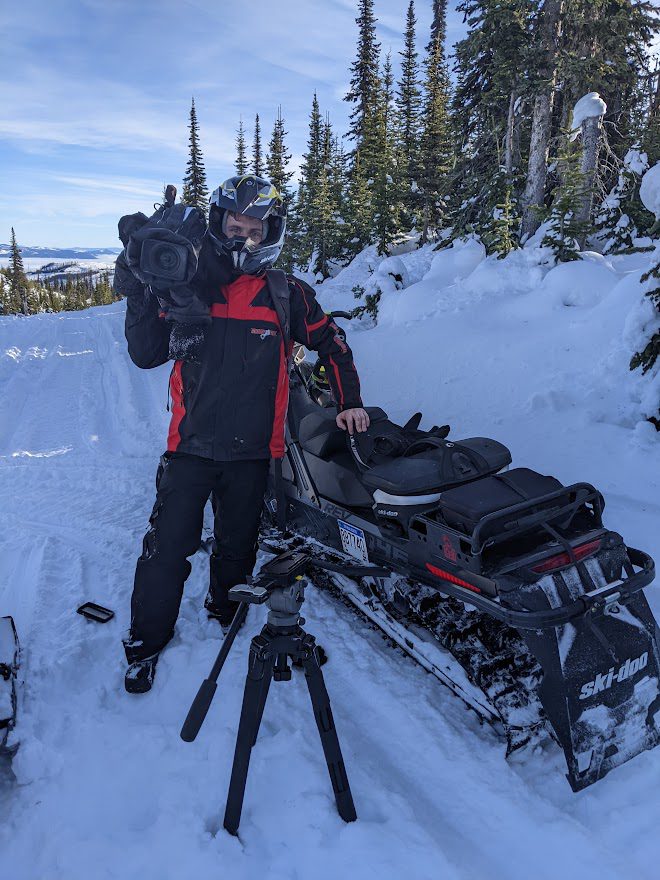 Part 3: The Magic – Post-Production
After the shoot wraps up, we embark on the post-production journey. This is where we transform raw footage into a compelling story that strikes a chord with the intended audience. We focus on delivering high-quality editing, sound, and overall aesthetics.
Erika Ingram from School District 23 praised our post-production work: "Curtis' editing work has exceeded my expectations. I am very happy with the film and sound quality, and overall look of his work. He has created art from our art. Curtis has been reliable and hardworking throughout the entire process, and is always prompt with communication. He has created a culture of mutual trust and caring by always acting with integrity, accountability, and transparency. I look forward to continuing to work on this project with Curtis and hope to be able to work with him again in the future."
Conclusion: Above and Beyond – The Distill Media Way
At Distill Media, we strive to be more than just a video production company; we aim to be an extension of your team, working closely with you to deliver a video that tells your story in the most impactful way. Rod Attwell from Springfield Funeral Home encapsulates our philosophy, stating, "Distill Media is one of those companies that differentiate themselves from the rest, simply because of their expertise and most importantly because they "care"."
We are deeply grateful for the trust and collaboration of our clients. Their stories, their messages, inspire us, and it's an honor to translate them into a medium that can reach, touch, and inspire many more.